SUSTAINABLE DEVELOPMENT GOALS (SDGS) – THE ROLE OF ENGINEERS IS THE KEY IN ADVANCING SDG7 –'AFFORDABLE AND CLEAN ENERGY'

Energy sector is one of the most essential sectors for national development. Access to affordable, clean, and modern energy sources is important to enable many other basic amenities and services: to power hospitals to operate medical equipment and store vaccines at the required temperatures; to light houses to enable children to study to achieve quality education; and to facilitate the development of digital infrastructure and communication technologies, to name a few.

The global demand for energy has grown steadily over the last decade, which prompted many controversial debates in public and policy forums in the use of energy sources. Globally, the access to electricity has been sharply increasing (90% in 2018), while more than 50% of the population in sub-Saharan Afrcian countries are without access to electricity. Nevertheless, the implementation of innovative and cleaner energy solutions have become more essential than ever before to counter the negative impact of climate change, one of the biggest threats to our survival.

There are many policy briefs and reports discussing the current and future energy sector demands in Sri Lanka, such as the "Long Term Generation Plan of Sri Lanka 2018 – 2037" and " Implementation of NDCs (Nationally Determined Contributions) for Renewable Energy in Sri Lanka Addressing Gaps in Policies and Regulations". The purpose of this article is to provide a broad overview of the energy sector in terms of its SDG targets and briefly to discuss the contribution of inter-linked climate change commitments for new engineering students and young engineers from disciplines other than the energy/electricity sector. Hence, this article does not delve into much details of the current debates on the expansion of renewable energy technologies and future plans to satisfy the increasing energy demand in Sri Lanka.

In this context, how can Engineers contribute to attain Sustainable Development Goal (SDG) 7 – "affordable and clean energy", which is to ensure access to affordable, reliable, sustainable and modern energy for all. In other words, we as Engineers need to ask – how can Engineers contribute to achieve the SDGs in the energy sector in Sri Lanka in the context of climate change. The energy sector is one of the key five sectors under the scope of mitigation for Intended Nationally Determined Contributions (INDC), which is to contribute in the reduction of GHG emissions against the current scenarios. This article also highlights some examples of contribution to SDGs from the engineering organisations and the role of engineers in society from a community development perspective.
Global key figures related to 'Affordable and Clean Energy' (SDG7)
Some of the relevant global key figures related to affordable and clean energy provided in the United Nation statistics include (https://sdgs.un.org/goals/goal7):
Global electrification rate is 90% – 789 million people lack electricity (2018)
Access to clean cooking fuels and technologies is 63% – Still, 2.8 billion persons lacked access to clean cooking fuels and technologies and relied primarily on inefficient and polluting cooking systems (2018)
The renewable energy share of total final energy consumption was 17.3% (2017)
SDG 7 (Affordable and Clean Energy) targets
SDG 7 sets out three key targets and two additional targets for resource mobilisation and policy to be achieved by 2030. The five key targets are: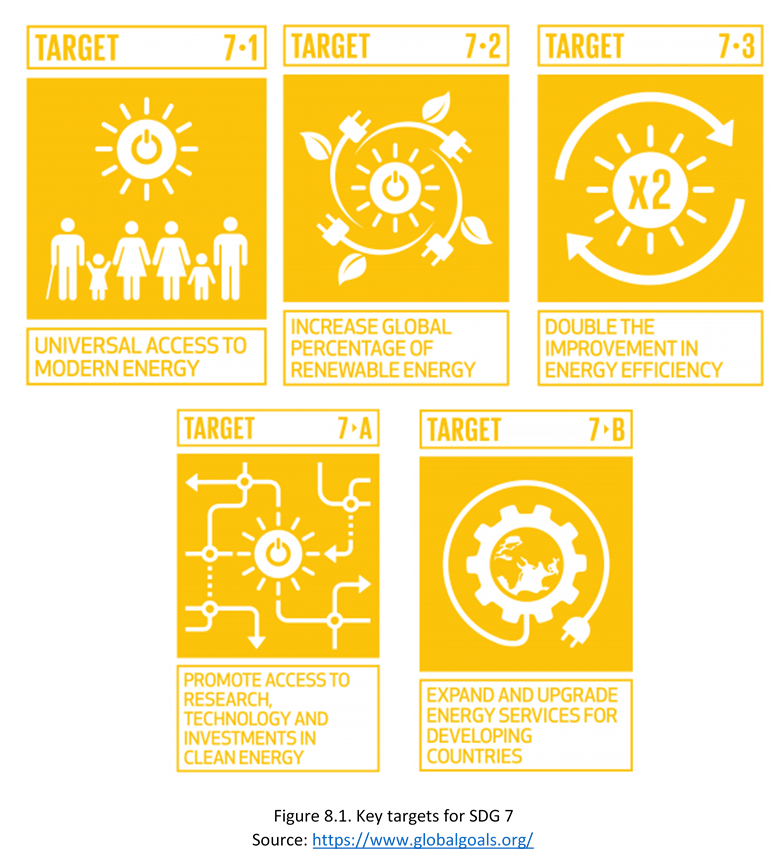 7.1. By 2030, ensure universal access to affordable, reliable and modern energy services.

7.2. By 2030, increase substantially the share of renewable energy in the global energy mix.

7.3. By 2030, double the global rate of improvement in energy efficiency.

The resource mobilisation and policy related targets are to:

7.a. By 2030, enhance international cooperation to facilitate access to clean energy research and technology, including renewable energy, energy efficiency and advanced and cleaner fossil-fuel technology, and promote investment in energy infrastructure and clean energy technology.

7.b. By 2030, expand infrastructure and upgrade technology for supplying modern and sustainable energy services for all in developing countries in accordance with their respective programmes of support.
SDG 7 (Affordable and Clean Energy) target indicators (examples)
The achievement of affordable and clean energy is measured by six key indicators. They are:
Proportion of population with access to electricity
Proportion of population with primary reliance on clean fuels and technology
Renewable energy share in the total final energy consumption
Energy intensity measured in terms of primary energy and GDP
International financial flows to developing countries in support of clean energy research and development and renewable energy production, including in hybrid systems
Installed renewable energy-generating capacity in developing countries (in watts per capita)
Detail indicator descriptions are available at https://unstats.un.org/sdgs website.

Current status of SDG 7 progression in Sri Lanka

The current status of achieving SDG 7 in Sri Lanka was reported in the recent review by the Government of Sri Lanka (SLVNR 2018):
Universal coverage of domestic supply of electricity, reaching nearly 100% households
36% of the primary supply comes from biomass sources, together with hydro (6%) and non-conventional renewable energy (NCRE, 2%), renewable sources account for 44% of total primary energy supply
Electricity is charged on increasing block tariff structure, designed to discourage the over-use of electricity, enable the low-income earners to manage low tariff and promote conservation of electricity
It is important to understand the energy sector with the future climate change scenarios. This is well articulated in the INDCs that were introduced in 2015, at the 21st Conference Parties (COP21) of the UNFCCC through the Paris Agreement. The energy sector of Sri Lanka has a 20% GHG emission reduction target through set of INDCs such as the establishment of large scale wind power plants of 514 MW; establishment of 115 MW of solar power plants; establishment of 105 MW of biomass power plants; establishment of 176 MW of mini hydropower plants; introduction of Demand Side Management (DSM) activities; strengthening sustainable energy related policies with a view to increase the share of renewable energy from the existing 50% to 60% in 2020; and converting existing fuel oil based power plants to LNG.
Although much of the focus has been on electricity generation, the transport sector is the major concern in the energy sector in Sri Lanka, which is largely dependent on fossil fuels. Sri Lanka's vehicle fleet has grown more than three times since 2000, creating a large demand for petroleum (In some years, annual growth is more than 10%). Inefficiencies in the public transport system, limited development in alternative transport modes such as railways, and the growing congestion in road traffic in urban areas make this situation further worse. An urgent attention is needed in Sri Lanka at all levels to find innovative solutions to modernize the transportation system to encourage the use of public transport modes and different energy efficient methods of mobility to minimize the dependency on fossil fuels. Further, adequate investments are needed to address the three key pillars of 'technology justice': access, innovation, and sustainability that can help the most vulnerable to climate change impacts and the marginalised and poor communities. Access to energy is key to achieve many other SDGs, such as, No poverty (SDG 1); Zero hunger (SDG 2); Good health and well-being (SDG 3); Quality education (SDG 4); Gender equality (SDG 5); Clean water and sanitation (SDG 6); Decent work and economic growth (SDG 8); Industry, innovation, & infrastructure (SDG 9); and Climate action (SDG 13).
Innovative examples for contributing to the achievement of SDG 7 in the engineering sector

There are many initiatives at policy, research and development, and in implementing energy related programs, since it cuts across many key sectors such as electricity generation, transportation (main user of petroleum), and manufacturing industries. From a research perspective to understand energy access, a recent Multi-Tier Framework developed by the World Band (2019) is an example of measuring the ability to obtain energy by all required energy applications across households, enterprises, and community institutions. It is measured to categorise the energy access (for electricity and cooking solutions) using factors such as the adequacy, availability when needed, reliability, quality, affordability, convenience, health, and safety and categorised in six tiers of access, ranging from Tier 0 (no access) to Tier 5 (full access).

Some other innovative initiatives to promote the use of renewable energy sources at the community level can be found in the work of key global engineering organizations such as Engineers without Borders (EwB) and Practical Action which have been working in different countries bringing engineering solutions to communities. The EwB has implemented many innovative projects to provide access to rural hospitals and schools through off-grid and portable renewable energy technologies such as using solar panels (Bergh 2014). Similar innovative projects should be promoted to encourage the access to renewable energy sources at the community level in the key sectors including electricity, transport, and manufacturing in Sri Lanka in partnership with national and local engineering companies and organisations.

Next SDG: SDG 8 –

In the next issue of digital SLEN, we will continue with the snapshot of SDG 8: "Decent Work and Economic Growth''. All SDGs are well connected, and thus require a holistic view to address real development challenges. Until then, let us reflect on SDG 7 – 'Affordable and Clean Energy' and its central role in the Engineering sector and profession. Your comments on how we as Engineers can contribute to achieve SDGs can be posted in the following IESL Facebook page https://www.facebook.com/IESLSriLanka/.

References
https://unstats.un.org/sdgs/indicators/Global%20Indicator%20Framework%20after%202019%20refinement_Eng.pdf
Royal Academy of Engineering, 2016. Achieving the United Nations Sustainable Development Goals, Engineering a better world, https://www.raeng.org.uk/publications/other/engineering-a-better-world-brochure
Sri Lanka Voluntary National Review (SLVNR) on the Status of Implementing Sustainable Development Goals, 2018. Ministry of Sustainable Development, Wildlife and Regional Development, Published by the Ministry of Sustainable Development, Wildlife and Regional Development in June, 2018.
WFEO 2018. Engineering 2030 A Plan to advance the achievement of the UN Sustainable Development Goals through engineering , Progress Report No. 1 – October 2018 A collaborative project with Sustainable Development Goals Division of Science Policy and Capacity Building Natural Sciences Sector, http://www.wfeo.org/wp-content/uploads/un/WFEO-ENgg-Plan_final.pdf#page=16
WFEO (2018) The Paris Declaration: Advancing the UN Sustainable Development Goals through Engineering, 7 March 2018, WFEO and UNESCO Declaration, available in Annex 1 at the https://sustainabledevelopment.un.org/content/documents/241538_World_Federation_of_Engineering_Report.pdf (Accessed on 11 November 2020).
Engineers Without Borders, https://www.ewb.ca/en/hello2030/affordable-and-clean-energy/ and https://www.ewb.org.au/solarenergyproject/ ,
Bergh, F., Herr, S., & Woofenden, L. (2014). Community-driven empowerment: An EWB-USA approach to Solar PV in developing communities. Procedia Engineering, 78, 265-273.
Vositha Wijenayake et.al (2018) Implementation of NDCs for Renewable Energy in Sri Lanka Addressing Gaps in Policies and Regulations, IRADe-SARI-18 (2018), Integrated Research and Action for Development, South Asia, Available at https://sari-energy.org/wp-content/uploads/2018/09/Revised-Report_Implementation-of-NDCs-for-Renewable-Energy-in-Sri-Lanka-Addressing-Gaps-in-Policies-and-Regulations.pdf
World Bank (2019) ACCELERATING SDG 7 ACHIEVEMENT POLICY BRIEF 15 – TRACKING SDG 7.1 WITH THE MULTI-TIER FRAMEWORK MEASURING ENERGY ACCESS, Available at https://sustainabledevelopment.un.org/content/documents/24126pb15_cover.pdf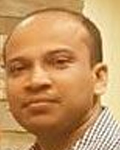 Eng. Saja A.A. Majeed
Lecturer
Faculty of Engineering, South Eastern University of Sri Lanka.