SUSTAINABLE DEVELOPMENT GOALS (SDGS) – SDG9 –'INDUSTRY, INNOVATION AND INFRASTRUCTURE' IS ALL ABOUT ENGINEERING
BY : DR. SAJA A.A. MAJEED

https://iesl.lk/SLEN/52/SDG9.php
One of the most directly relevant Sustainable Development Goals (SDGs) among 17 SDGs is the 'Industry, Innovation and Infrastructure' (SDG 9), besides other SDGs such as Clean Water and Sanitation (SDG 6) and Affordable and Clean Energy (SDG 7). The Industry, Innovation and Infrastructure (I3) sectors are most often led by Engineering professionals.

Increased climate change uncertainties, emerging disaster risks, rapid urbanisation, and tightening financial stresses, all demand a more flexible and adaptive approach to infrastructure development. This means, treating infrastructure as an interlinked portfolio of assets that enables to build resilience into the system. For example, this can involve combining green infrastructure while creating assets, such as parks, that not only contribute to clean air and storm water retention but also provide public amenities that improve quality of life (UNOPS 2019).

The World Engineering Day for Sustainable Development that is celebrated annually on 4th March since 2020 highlights the role of engineers and engineering achievements for sustainable development. Engineering for A Healthy Planet is the theme of 2021 World Engineering Day, which was celebrated last week throughout the world by engineers and engineering organisations. As engineering is central to many sectors such as food, water, energy, environment, and sustainable cities, the role of engineering in achieving many SDGs linked to the above sectors is indispensable. Three colours at the centre of the World Engineering Day logo also depicts three key sectors where the engineers are needed most (Water, Energy, and Infrastructure). Hence, the critical role of engineers in developing inclusive technologies and innovations to benefit people and the planet for greater prosperity and better quality of life continues to get the attention of the global professionals and policy makers. In this context, how can Engineers contribute to attain Sustainable Development Goal (SDG) 9 – 'Industry, Innovation and Infrastructure' (I3), which is to build resilient infrastructure, promote inclusive and sustainable industrialization and foster innovation.

Global key figures related to 'Industry, Innovation and Infrastructure' (SDG9)
Some of the relevant global key figures related to 'Industry, Innovation and Infrastructure' provided in the United Nation statistics include (https://sdgs.un.org/goals/goal9):
14% of the world's workers were employed in manufacturing activities. The growth of the manufacturing industry has seen further decline due to COVID 19 pandemic and severe disruptions were caused to the global supply chain of products.
In developing countries, 34% of small-scale industries benefit from loans or lines of credit, which enable them to integrate into local and global value chains
Aviation industry suffered the deepest decline in history in 2020 due to global pandemic (Air passenger numbers fell by 50% in the first half of 2020)
Investment in research and development as a proportion of GDP increased, from 1.5% in 2000 to 1.7% in 2015 (US$ 2.2 trillion in 2017)
96% of the world population was covered by at least a 2G network, with 82% covered by at least a long-term evolution network. However, fewer than one in five people in the least developed countries use internet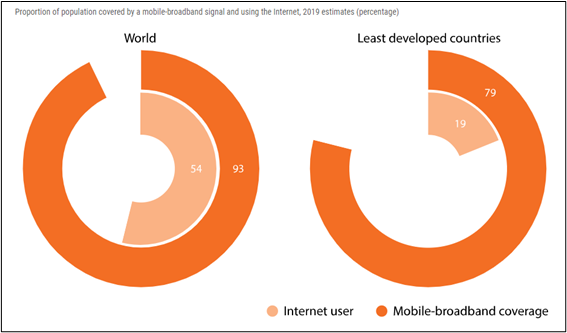 Figure 9.1. Proportion of population covered by a mobile-broadband signal and using internet

SDG 9 (Industry, Innovation and Infrastructure) targets
SDG 9 sets out five key targets and three additional targets (9.a, 9.b, and 9.c) for resource mobilisation and policy to be achieved by 2030. The eight key targets are:
9.1. Develop quality, reliable, sustainable and resilient infrastructure, including regional and trans border infrastructure, to support economic development and human well-being, with a focus on affordable and equitable access for all

9.2. Promote inclusive and sustainable industrialization and, by 2030, significantly raise industry's share of employment and gross domestic product, in line with national circumstances, and double its share in least developed countries

9.3. Increase the access of small-scale industrial and other enterprises, in particular in developing countries, to financial services, including affordable credit, and their integration into value chains and markets

9.4. By 2030, upgrade infrastructure and retrofit industries to make them sustainable, with increased resource-use efficiency and greater adoption of clean and environmentally sound technologies and industrial processes, with all countries taking action in accordance with their respective capabilities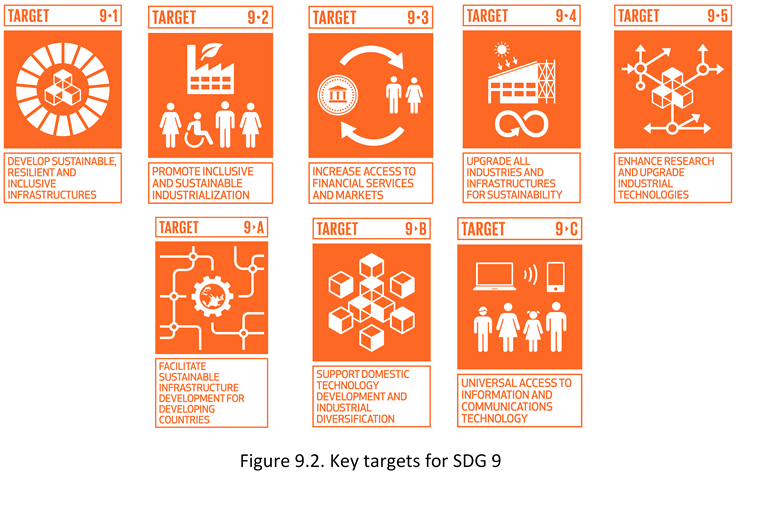 9.5. Enhance scientific research, upgrade the technological capabilities of industrial sectors in all countries, in particular developing countries, including, by 2030, encouraging innovation and substantially increasing the number of research and development workers per 1 million people and public and private research and development spending

9.a. Facilitate sustainable and resilient infrastructure development in developing countries through enhanced financial, technological and technical support to African countries, least developed countries, landlocked developing countries and small island developing States

9.b. Support domestic technology development, research and innovation in developing countries, including by ensuring a conducive policy environment for, inter alia, industrial diversification and value addition to commodities

9.c. Significantly increase access to information and communications technology and strive to provide universal and affordable access to the Internet in least developed countries by 2020

SDG 9 (Industry, Innovation and Infrastructure) target indicators (examples)
The achievement of Industry, Innovation and Infrastructure goal is measured by the following set of key indicators:
Proportion of the rural population who live within 2 km of an all-season road and passenger and freight volumes, by mode of transport
Manufacturing value added as a proportion of GDP and per capita and Manufacturing employment as a proportion of total employment
Proportion of small-scale industries in total industry value added and proportion of small-scale industries with a loan or line of credit
Research and development expenditure as a proportion of GDP and researchers (in full-time equivalent) per million inhabitants
Total official international support (official development assistance plus other official flows) to infrastructure
Proportion of medium and high-tech industry value added in total value added
Proportion of population covered by a mobile network, by technology
Detail indicator descriptions are available at HTTPS://UNSTATS.UN.ORG/SDGS website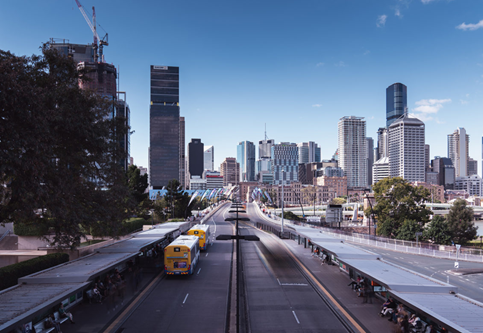 Current status of SDG 9 progression in Sri Lanka
The current status of achieving SDG 9 in Sri Lanka was reported in the recent review by the Government of Sri Lanka (SLVNR 2018) and other updated sources as indicated. Some of the key contributions include:
95% of the rural population live within two kilometers of an all-season road. The demand for road transportation which contributes to 93% of total passenger transportation and 97% of freight transport has shown an increasing trend (SLVNR 2018).
Sri Lanka was ranked 101st place out of 131 countries in the Global Innovation Index (GII) – 2020 with lesser score than a median score of 31 in the 0-100 scale (90th rank in 2017), reported to be performing below expectations for the level of its development (WIPO 2020).
The growth of the industrial sector was mainly driven by construction activities and mining and quarrying activities, but less by the manufacturing sector. The manufacturing sector has remained highly concentrated among apparel, food products and rubber products and other labour intensive industries producing goods of low technological intensity (SLVNR 2018).
According to the World Bank database, Research and Development (R & D) Expenditure in Sri Lanka is 0.11% of total GDP (2013-2015). It is lower compared to South Asia average 0.62 (Nepal 0.3, Pakistan 0.25, and India 0.7). Further, in the Global Competitive Index 2018, Sri Lanka ranked 110 of 119 countries based on the percentage of R&D expenditure of total GDP.
Major challenges that hinder industrialization and the growth of the manufacturing sector in Sri Lanka include the lack of entrepreneurship, innovations, technology and management skills; low investor confidence; shortage of labour; poor diversification of products and the quality of the domestic market as well as problems of gaining access to international markets.
Role of engineering to advance SDG 9 – 'Industry, Innovation and Infrastructure
Some selected examples from world reputed engineering organizations that worked in SDG are provided below briefly:
The key aspects of Industry 4.0, associated with digitalization, automation, connectivity and efficient production need to be framed within the challenges of Sustainable Development Goals (SDGs). These aspects will serve as a basis for the identification of new characteristics and abilities that engineers will require and they need to be incorporated into the engineering curriculum and practice (Muñoz-La Rivera 2020).
The partnership between RMIT School of Engineering and Engineers Without Borders Australia (EWB) is a good example of how higher education institutions can partner in community based projects through a variety of different initiatives. The RMIT partnership with EWB provides opportunities for engineering students to learn about global perspectives in engineering through real projects and to participate directly in community-based programs and initiatives focused on sustainable development. These opportunities are embedded within the curriculum or are available to students through involvement in the EWB Chapter (RMIT 2020). RMIT's urban liveability indicator development project is another example for working in partnership with city administrators to contribute to SDGs.
The WFEO (World Federation of Engineering Organizations) has many Standing Technical Committees such as Committee on Disaster Risk Management (CDRM), Committee on Information and Communication (CIC), Committee on Engineering and the Environment (CEE) and Committee on Engineering for Innovative Technologies (CEIT). These committees are closely working to use innovative technologies. For example, the International Meridian Circle Project (IMCP) aims to establish a global network of earthquake monitoring based not only on the earth but also in space. This project integrates the sensing data on the earth and from space, combining the given earthquake monitoring technology with innovative technologies, such as satellite remote sensing, Internet of Things (IoT) and Big Data, to acquire unprecedented ability to the monitoring of earthquakes on a global scale (WFEO 2018).
Data infrastructure is another crucial sector in par with other critical infrastructure such as power and transport sectors, and it requires investment, curation and protection. Data is an infrastructure that, engineered correctly, can generate larger economic returns. Hence, promotion of data in a wider multiple scale will help to support open innovation and providing knowledge for everyone (RAE 2016).
Next SDG: SDG 10 – Reduced Inequalities
In the next issue of digital SLEN, we will continue with the snapshot of SDG 10: "Reduced Inequalities''. All SDGs are well connected, and thus require a holistic view to address real development challenges. Until then, let us reflect on SDG 9 – 'Industry, Innovation and Infrastructure' and its central role in the Engineering sector and profession. Your comments on how we as Engineers can contribute to achieve SDGs can be posted in the following IESL Facebook page https://www.facebook.com/IESLSriLanka/.

References
https://unstats.un.org/sdgs/indicators/Global%20Indicator%20Framework%20after%202019%20refinement_Eng.pdf
Royal Academy of Engineering, 2016. Achieving the United Nations Sustainable Development Goals, Engineering a better world, https://www.raeng.org.uk/publications/other/engineering-a-better-world-brochure
Sri Lanka Voluntary National Review (SLVNR) on the Status of Implementing Sustainable Development Goals, 2018. Ministry of Sustainable Development, Wildlife and Regional Development, Published by the Ministry of Sustainable Development, Wildlife and Regional Development in June, 2018.
WFEO 2018. Engineering 2030 A Plan to advance the achievement of the UN Sustainable Development Goals through engineering , Progress Report No. 1 – October 2018 A collaborative project with Sustainable Development Goals Division of Science Policy and Capacity Building Natural Sciences Sector, http://www.wfeo.org/wp-content/uploads/un/WFEO-ENgg-Plan_final.pdf#page=16
WFEO (2018) The Paris Declaration: Advancing the UN Sustainable Development Goals through Engineering, 7 March 2018, WFEO and UNESCO Declaration, available in Annex 1 at the https://sustainabledevelopment.un.org/content/documents/241538_World_Federation_of_Engineering_Report.pdf (Accessed on 11 November 2020).
Engineers Without Borders, https://www.ewb.ca/en/hello2030/affordable-and-clean-energy/ and https://www.ewb.org.au/solarenergyproject/ ,
https://data.worldbank.org/indicator/GB.XPD.RSDV.GD.ZS?end=2015&locations=LK-8S&most_recent_value_desc=false&start=1996&view=chart
Rivera, M. L., Hermosilla, P., Delgadillo, J., & Echeverría, D. (2020). The Sustainable Development Goals (SDGs) as a Basis for Innovation Skills for Engineers in the Industry 4.0 Context. Sustainability, 12(16), 6622.
UNOPS (2019) The critical role of infrastructure for the Sustainable Development Goals, https://content.unops.org/publications/The-critical-role-of-infrastructure-for-the-SDGs_EN.pdf?mtime=20190314130614