SUSTAINABLE DEVELOPMENT GOALS (SDGS) – HOW CAN ENGINEERS CONTRIBUTE TO PROMOTE GENDER EQUALITY? BY : Dr. SAJA A.A. MAJEED
https://iesl.lk/SLEN/48/SDG5.php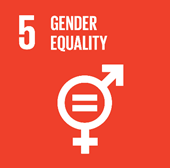 The role of women in engineering has been getting more attention in the recent past, with more voices for increase in women enrolment in STEM. A recent statistics by Harvard Business Reviews (HBR 2016) highlighted that women make up only 20% of engineering graduates, but it's been estimated that nearly 40% of women who earn engineering degrees either quit or never enter the profession. In this context, how can Engineers contribute to attain Sustainable Development Goal (SDG) 5 – ''gender equality", which is to achieve gender equality and empower all women and girls. In other words, we, Engineers need to ask – How do Engineers contribute to promote gender equality in what we do and how can we better do it in the future.
Global key figures related to gender inequality

According to United Nation statistics, 49 countries in the world have no specific laws for protecting women from domestic violence, women do three times unpaid care and domestic work as men, and only 15% of countries have legislation that mandates specialised gender-based surveys. Some of the relevant global key figures related to gender inequality include (UN 2019):
women represented 39 per cent of world employment
women's representation in elected bodies at local level stands at 26% (2019), and 23% in national parliaments (2018)
In the majority of the 67 countries with data from 2009 to 2015, fewer than a third of senior- and middle-management positions were held by women
47% of the business leaders are in agreement with the introduction of gender quotas in corporate boards to boost women participation in decision making bodies.
Global scenarios related to SDG 5 – Gender Equality

The achievement of SDG 5 can be seen as a corner stone and integral part of achieving other SDGs in some way, since gender becomes a cross cutting theme in most of, if not all other SDGs. Few examples from the global scenarios include,
In SDG 3 – Good health and well-being, maternal health is linked to access to good health care facilities for women. In 2017, globally nearly 300,000 women died from complications related to pregnancy and childbirth.
Among 25 million children who do not have access to primary education, 60% of them are girls (linked to SDG 4 – Quality Education).
In households where there is no access to water in the premises, women and girls are responsible for water collection in 80% of those households without access to water on premises, leave more burden on women (SDG 6 – Clean water and sanitation).
The labour force participation rate of women aged 25 to 54 is 55% versus 94% for men in the same age group (SDG 8 – Decent work and economic growth).
– Globally, 38.7% of employed women are working in agriculture, forestry and fisheries, but only 13.8% of landholders are women (Linked to SDGs 12, 14, and 15).
SDG 5 (Gender Equality) targets

SDG 5 sets out six key targets and three additional targets for resource mobilisation and policy to be achieved by 2030. The nine key targets are: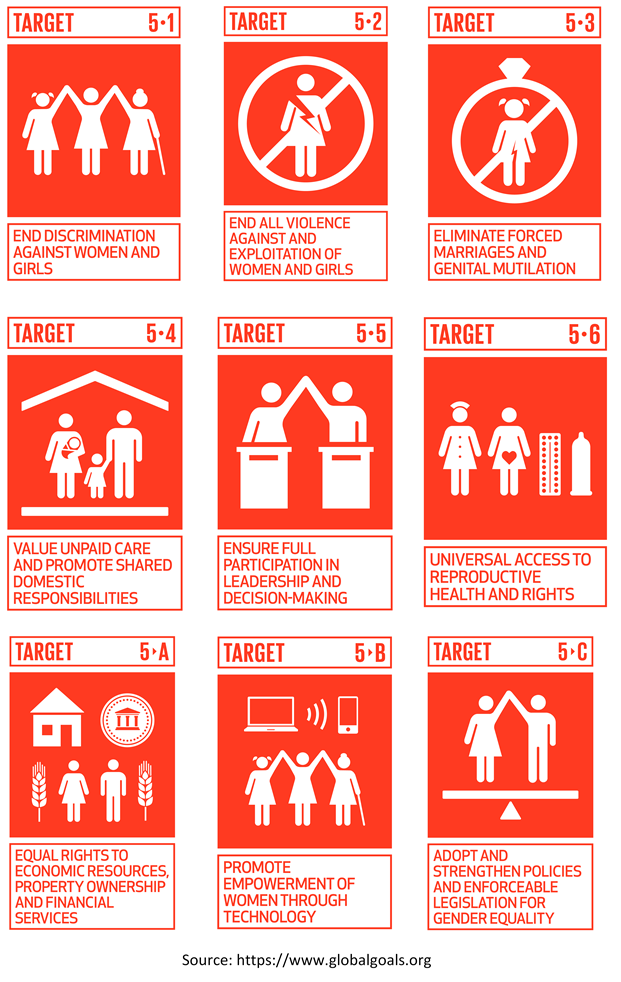 5.1. End all forms of discrimination against all women and girls everywhere
5.2. Eliminate all forms of violence against all women and girls in the public and private spheres, including trafficking and sexual and other types of exploitation
5.3. Eliminate all harmful practices, such as child, early and forced marriage and female genital mutilation
5.4. Recognize and value unpaid care and domestic work through the provision of public services, infrastructure and social protection policies and the promotion of shared responsibility within the household and the family as nationally appropriate
5.5. Ensure women's full and effective participation and equal opportunities for leadership at all levels of decision making in political, economic and public life
5.6. Ensure universal access to sexual and reproductive health and reproductive rights as agreed in accordance with the Programme of Action of the International Conference on Population and Development and the Beijing Platform for Action and the outcome documents of their review conferences.
The resource mobilisation and policy related targets are to:
5a. Undertake reforms to give women equal rights to economic resources, as well as access to ownership and control over land and other forms of property, financial services, inheritance and natural resources, in accordance with national laws

5b. Enhance the use of enabling technology, in particular information and communications technology, to promote the empowerment of women
5c. Adopt and strengthen sound policies and enforceable legislation for the promotion of gender equality and the empowerment of all women and girls at all levels.
SDG 5 (Gender Equality) target indicators (examples)
The achievement of gender equality is measured by many indicators. Some of the relevant key indicators are:
Proportion of seats held by women in national parliaments and local governments
Proportion of women in managerial positions
Proportion of countries where the legal framework (including customary law) guarantees women's equal rights to land ownership and/or control
Proportion of individuals who own a mobile telephone, by sex
Proportion of countries with systems to track and make public allocations for gender equality and women's empowerment
Detail indicator descriptions are available at https://unstats.un.org/sdgs website.
Current status of SDG 5 progression in Sri Lanka
The current status of achieving SDG 5 in Sri Lanka was reported in the recent review by the Government of Sri Lanka (SLVNR 2018). In this articles, the focus is on the status of gender equality in the most relevant SDG indicators, for example indicator 5.5. Sri Lanka was ranked 73rd out of 188 countries in the UNDP's gender inequality index (GII), which measures gender inequality using three dimensions: reproductive health, empowerment, and labour market participation. However, in Sri Lanka, girls have higher enrolment and retention rates in upper secondary and tertiary education and higher performance levels at public examinations (SLVNR 2018). Currently, the overall women enrolment in Science, Technology, Engineering, and Management (STEM) education in Sri Lankan local universities stands at 49% at undergraduate level studies, which is higher in comparison to global figures of 35% (Abayasekara 2020). However, there is a wide disparity of enrolment rates among different STEM fields. For example, the women enrolment percentage in engineering is 24%, computer science – 47%, technology – 42%, while the enrolment rate is more than 60% in allied health sciences, medicine, agriculture, dental and veterinary sciences (Abayasekara 2020). Yet, in Sri Lanka, it appears that women face challenges and limitations to access high skilled and remunerative employment in engineering and technology-related fields. Hence, innovative strategies are needed to open more opportunities for women in STEM employment. This could include promoting further progress of women in STEM education to higher levels of studies such as post-graduate and professional certifications and promoting a conducive social environment that enable women opt for more technology and engineering based employment.

The World Economic Forum's Global Gender Gap Report shows that for many countries, raising women's workforce participation to the same level as men's could raise GDP per capita by significant amounts (RAE 2016). Hence, there is need for innovative strategies such as boosting online based entrepreneurships, increasing the women participation through work from home engagements, and ensuring safer and flexible working environment, to translate the accomplishments of women in education into the labour market achievements. The Government of Sri Lanka has already passed the bill to allocate 25% of the electoral seats to women to ensure women participation in politics and local level decision making in local authorities. Similar interventions may be needed to introduce policies to increase women participation in the engineering education and business sectors.
Global examples for contributing to the achievement of SDG 5 in the engineering sector
The World Federation of Engineering organisations (WFEO) implemented projects in line with SDGs. For example, to contribute to the achievement of SDG5, formation of WFEO committee on women in engineering, women in engineering celebrations on World Engineering Day, and women in engineering declaration were some of the initiatives initiated by WFEO (www.wfeo.org) to promote women engagement in engineering. WomEng, was established by WFEO, an Associate member of WFEO with the objective of encouraging girls to consider STEM as a career by creating STEM awareness for girls and developing, mentoring and supporting them through their engineering journey.

According to recent data from some 90 countries, women devote on average roughly three times more hours a day to unpaid care and domestic work than men, limiting the time available for paid work, education and leisure and further reinforcing gender-based socioeconomic disadvantages. Future key strategies need to focus on introducing policies to involve women in innovation, entrepreneurship, and community/corporate leadership positions and provide equal opportunities and benefits that will encourage future generation of young women to take lead in emerging technology-driven job market.
Next SDG: SDG 6 – Clean water and sanitation
In the next issue of digital SLEN, we will continue with the snapshot of SDG 6: clean water and sanitation. All SDGs are well connected, and thus require a holistic view to address real development challenges. Until then, let us reflect on SDG 5 – gender equality and its implication to Engineering profession. Your comments on how we as Engineers can contribute to achieve SDGs can be posted in the following IESL Facebook page https://www.facebook.com/IESLSriLanka/ .
References:
https://unstats.un.org/sdgs/indicators/Global%20Indicator%20Framework%20after%202019%20refinement_Eng.pdf
Royal Academy of Engineering, 2016. Achieving the United Nations Sustainable Development Goals, Engineering a better world, https://www.raeng.org.uk/publications/other/engineering-a-better-world-brochure
Sri Lanka Voluntary National Review (SLVNR) on the Status of Implementing Sustainable Development Goals, 2018. Ministry of Sustainable Development, Wildlife and Regional Development, Published by the Ministry of Sustainable Development, Wildlife and Regional Development in June, 2018.
WFEO 2018. Engineering 2030 A Plan to advance the achievement of the UN Sustainable Development Goals through engineering , Progress Report No. 1 – October 2018 A collaborative project with Sustainable Development Goals Division of Science Policy and Capacity Building Natural Sciences Sector, http://www.wfeo.org/wp-content/uploads/un/WFEO-ENgg-Plan_final.pdf#page=16
Susan S. Silbey, 2016. GENDER – Why Do So Many Women Who Study Engineering Leave the Field, 23 August, 2016https://hbr.org/2016/08/why-do-so-many-women-who-study-engineering-leave-the-field.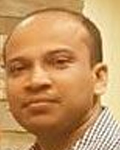 Dr. Saja A.A. Majeed
Lecturer
Faculty of Engineering, South Eastern University of Sri Lanka.