SUSTAINABLE DEVELOPMENT GOAL (SDG 16): 'PEACE, JUSTICE, AND STRONG INSTITUTIONS' – ENGINEERS CREATE A CONDUCIVE ENVIRONMENT FOR PEACEFUL AND JUST SOCIETY
https://iesl.lk/SLEN/59/SDG.php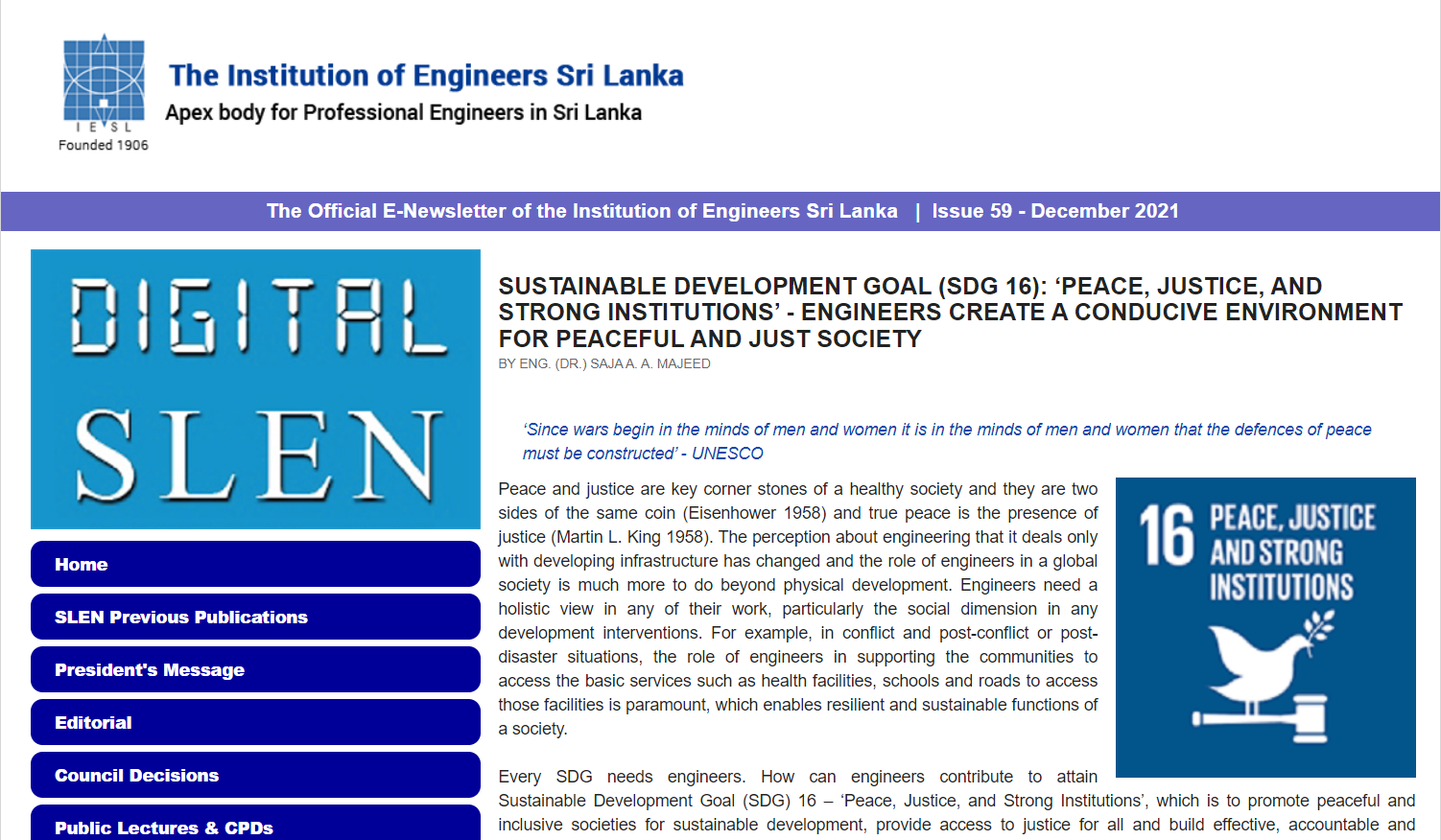 'Since wars begin in the minds of men and women it is in the minds of men and women that the defences of peace must be constructed' – UNESCO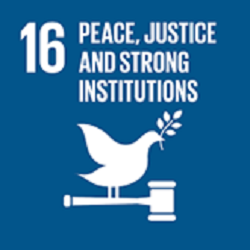 Peace and justice are key corner stones of a healthy society and they are two sides of the same coin (Eisenhower 1958) and true peace is the presence of justice (Martin L. King 1958). The perception about engineering that it deals only with developing infrastructure has changed and the role of engineers in a global society is much more to do beyond physical development. Engineers need a holistic view in any of their work, particularly the social dimension in any development interventions. For example, in conflict and post-conflict or post-disaster situations, the role of engineers in supporting the communities to access the basic services such as health facilities, schools and roads to access those facilities is paramount, which enables resilient and sustainable functions of a society.

Every SDG needs engineers. How can engineers contribute to attain Sustainable Development Goal (SDG) 16 – 'Peace, Justice, and Strong Institutions', which is to promote peaceful and inclusive societies for sustainable development, provide access to justice for all and build effective, accountable and inclusive institutions at all levels. The SDG 16 deals with three main aspects: peaceful society, justice, and strong institutions. Most of the clauses in the code of ethics for professional engineers by the Institution of Engineers Sri Lanka (IESL) embodies the act of truthfulness to the profession and accountability to all the stakeholders including the society they serve. These codes of ethics are important pillars for engineers that will also contribute to build a peaceful and just society and strong institutions which are the three key aspects of SDG16 highlighted above.

Globally, there are number of engineering organisations which work in the humanitarian and development sector that contribute to build peace, support the people to fulfil humanitarian needs, and promote social justice. For example, RedR and Engineers Without Boarders (EwB) are two global non-governmental organisations which deploy engineers to work in the frontline with the communities. I used to work with RedR, which was originally known as Registered Engineers for Disaster Relief (now branded as RedR) after the 2004 Tsunami disaster in Sri Lanka. RedR has a registry of engineers and other humanitarian workers who can be deployed when required in times of a disaster; for example, RedR Australia, among five other RedRs in UK, India, Indonesia, and Malaysia have a stand-by deployment arrangement with a number of United Nation Agencies for recruitment of humanitarian personals including engineers who are needed to respond to the humanitarian needs. Similarly, EwB (EwB Canada, EwB Australia, and EwB UK) provides opportunities for engineering students and young engineers to work in community projects to solve problems at the community level. These organisations provide a great platform for engineering students to engage with communities beyond classrooms and through service-learning projects. In Sri Lanka, although such initiatives are available for engineering undergraduates and young engineers, the culture of volunteering in community projects need to be inculcated among the engineering students and professionals through institutional arrangements by the universities and organisations such as IESL and EwB.

Another key role engineers play is to help developing effective, accountable and transparent institutions and good governance at all levels, since most of the senior engineers are working in top-management or leadership roles in a number of government and private sector organisations. For example, the Water Supply and Drainage Board, Ceylon Electricity Board, and many other state departments are often led by engineers, who are also working closely with people on the ground, bridging the gap between communities and policy makers. Such a role requires higher level of integrity, trust, and ethical leadership portfolios to execute the task successfully and in a just manner. Engineers need to be frequently reminded about the accountability and transparency towards the primary stakeholders we serve downwards as equal to that of towards the upward stakeholders such as donors and policy makers. Lack of strong institutions and institutional mechanisms have been identified as one of the main reasons for significant gaps in the implementation of available regulations and policies to ensure peace and justice.

Sri Lanka has been doing better in relation to the key indicators of SDG16 since the end of three decade long civil war in 2009, yet a peaceful and just society is a long way ahead. For example, suicide mortality rate per 100,000 population in Sri Lanka was 14 (2019) and among male is very high (22.3) compared to female (6.2). Further, one of the key indicators for SDG16 is to eliminate the corruption and bribery, which is an important code of ethics in engineering profession too. The global corruption barometer shows that 79% people in Sri Lanka think that corruption in the state sector is a big problem and 16% of public service users have paid bribe during the past 12 months (GCB Asia 2020, Transparency International). Therefore, the role of engineers in the achievement of SDG6 cannot be taken lightly.
Global key figures related to 'Peace, Justice, and Strong Institutions' (SDG16)

Some of the relevant global key figures related to 'Peace, Justice, and Strong Institutions' provided in the United Nation statistics include (https://sdgs.un.org/goals/goal16):

69,276 civilian deaths in 12 of the world's deadliest armed conflicts between 2018 and 2020
Five civilians killed per 100,000 population, one in seven of which was a woman or child (2020)
Around 82.4 million people had been forcibly displaced worldwide (equivalent to 1 per cent of the global population) (2020)
Homicide rates declined from 6 victims per 100,000 population (2015) to 5.7 (2019)
the average prevalence of bribery in low-income countries and territories is 37.6 per cent, compared to 7.2 per cent in high-income countries
one business in six around the world is subject to requests from public officials for bribe payments
the births of around one in four children under 5 years of age worldwide were not officially recorded
the proportion of prisoners held in detention without being sentenced for a crime remained high at 31 per cent of the total prison population (2019)
SDG 16 (Peace, Justice, and Strong Institutions) targets
SDG 16 sets out ten key targets and two additional targets (16.a and 16.b) for resource mobilisation and policy to be achieved by 2030. The 12 key targets are:

16.1. Significantly reduce all forms of violence and related death rates everywhere

16.2. End abuse, exploitation, trafficking and all forms of violence against and torture of children

16.3. Promote the rule of law at the national and international levels and ensure equal access to justice for all

16.4. By 2030, significantly reduce illicit financial and arms flows, strengthen the recovery and return of stolen assets and combat all forms of organized crime

16.5. Substantially reduce corruption and bribery in all their forms

16.6. Develop effective, accountable and transparent institutions at all levels

16.7. Ensure responsive, inclusive, participatory and representative decision-making at all levels

16.8. Broaden and strengthen the participation of developing countries in the institutions of global governance

16.9. By 2030, provide legal identity for all, including birth registration

16.10. Ensure public access to information and protect fundamental freedoms, in accordance with national legislation and international agreements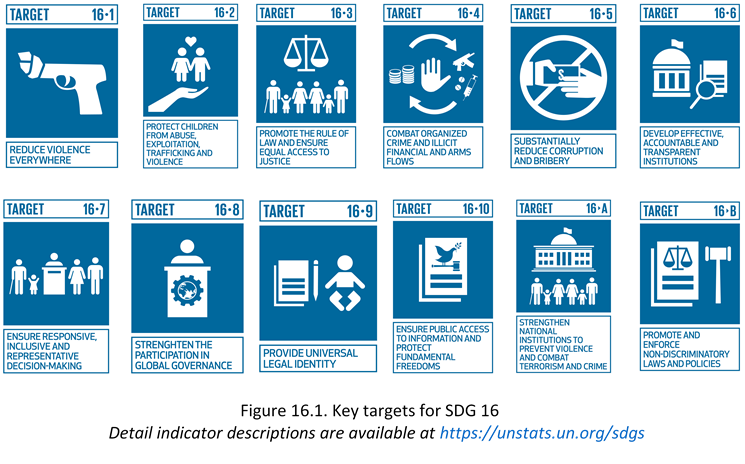 16.a. Strengthen relevant national institutions, including through international cooperation, for building capacity at all levels, in particular in developing countries, to prevent violence and combat terrorism and crime

16.b. Promote and enforce non-discriminatory laws and policies for sustainable development

SDG 16 (Peace, Justice, and Strong Institutions) target indicators (examples)
The achievement of 'Peace, Justice, and Strong Institutions' goal is measured by set of key indicators. Some of them include:
Number of victims of intentional homicide and Conflict-related deaths per 100,000 population
Proportion of population subjected to physical, psychological or sexual violence in the previous 12 months
Number of victims of human trafficking per 100,000 population
Proportion of the population satisfied with their last experience of public services
Proportion of persons/businesses who had at least one contact with a public official and who paid a bribe to a public official, or were asked for a bribe by those public officials
Current status of SDG 16 progression in Sri Lanka

The current status of achieving SDG16 in Sri Lanka was reported in the recent review by the Government of Sri Lanka (SLVNR 2018). Some of the key contributions include:

Sri Lanka performs poorly in terms of corruption and bribery although acts to prevent corruption and bribery such as Prevention of Money Laundering Act No. 5 of 2006 and Financial Transactions Reporting Act No. 6 of 2006 are available.
According to Transparency International's Corruption Perception Index (CPI) 2020, Sri Lanka was ranked at 94 out of 179 counties with a score of 38 (New Zealand and Denmark ranked 1st with the score of 88 and Somalia ranked last with the score of 12). The Police appears to be the highest bribe accepting entity that significantly weakens the law enforcement (TI 2018).
Two significant Acts were passed that will strengthen the justice and democracy; the Right to Information (RTI) Act, No. 12 of 2016 and the Office on Missing Persons (OMP) Act, No. 9 of 2017. The RTI fosters a culture of transparency and accountability in public authorities by providing all citizens the right of access to information, which is the third best legislation on RTI in the world according to the ranking done by Center for Law and Democracy (TI 2018).
The Financial Intelligence Unit (FIU) of the Central Bank of Sri Lanka (CBSL) has introduced guidelines in 2018 for Money Laundering and Terrorist Financing to keep records and to report suspicious transactions, in line with the Financial Action Task Force (FATF).
Role of engineering and engineers to advance SDG16 – 'Peace, Justice, and Strong Institutions'

Some selected examples from world reputed engineering organizations are briefly highlighted below:
The World Federation of Engineering Organisations (WFEO) has partnered with the International Engineering Alliance (IEA) to ensure engineering education standards for graduates to reflect the values of sustainable, ethical, and inclusive engineering (WFEO 2021).
The WFEO has also developed a Model Code of Ethics for Engineers, which is used as a basis for codes of ethics by other professional engineering organizations such as Engineers Australia (Engineers Australia 2019).
The ISO 37001:2016 is an Anti-Bribery Management Systems Standard by ISO (the International Organization for Standardization), which is to prevent corruption and help organisations to implement bribery controls. The WFEO is a partner in the project and plays a special role by being a liaison organization to the ISO project committee and by providing a chair of the drafting committee (WFEO 2016).
The ISO 37000:2021 is another standard that sets the principles and key aspects of practices to guide governing bodies and governing groups on how to meet their responsibilities so that the organizations they govern can fulfil their purpose, which can be of relevance to engineering organisations (ISO 2021).
The WFEO Committee on Anti-Corruption has partnered with OECD and the World Justice Project to promote frameworks to address corruption in engineering to maximise benefits of infrastructure investments. Another initiative to fight against corruption in infrastructure and engineering investments is initiated by the Global Infrastructure Anti-Corruption Centre (GIACC) in UK. The GIACC provides resources to identify and prevent corruption in infrastructure and engineering sector projects (UNESCO 2021).
'Engineering X' is an initiative by the Royal Academy of Engineering (RAE) that promotes collaboration among problem-solvers to improve the safety of global communities and address the great challenges of this era. Some of the programs under 'Engineering X' include 'Safer Complex Systems', 'Safer End of Engineered Life' and 'Engineering Skills where they are most needed' are good examples that contribute to the achievement of SDG16 by Engineers, who help the systems to function that will in turn bring peace and justice to the marginalised and vulnerable communities (RAE UK).
Peace Engineering course by Georgia Tech University developed a peace engineering framework to engage multi-stakeholders in engineering education and profession and to create innovative solutions to improve the human conditions and promote peace and prosperity. This course aims to guide students through an engineering design process to identify existing conflicts and develop and adopt tools for addressing the problems. It will bring ideas, technologies, models and methods to help students act locally and think globally to implement sustainable technology and infrastructure solutions to create peace and inclusive institutions (Georgia Tech 2021).
Next SDG: SDG 17 – Partnership for the goals
In the next issue of digital SLEN, we will continue with the snapshot of SDG 17: "Partnership for the goals ''. All SDGs are well connected, and thus require a holistic view to address real development challenges. Until then, let us reflect on SDG 16: 'Peace, Justice, and Strong Institutions' and its central role in the Engineering sector and profession. Your comments on how we as engineers can contribute to achieve SDGs can be posted in the IESL Facebook page https://www.facebook.com/IESLSriLanka/.
References
https://unstats.un.org/sdgs/indicators/Global%20Indicator%20Framework%20after%202019%20refinement_Eng.pdf
Sri Lanka Voluntary National Review (SLVNR) on the Status of Implementing Sustainable Development Goals, 2018. Ministry of Sustainable Development, Wildlife and Regional Development, Published by the Ministry of Sustainable Development, Wildlife and Regional Development in June, 2018.
UNESCO (2021) United Nations Educational, Scientific and Cultural Organization, Engineering for Sustainable Development – Delivering on the Sustainable Development Goals, March 2021, https://unesdoc.unesco.org/ark:/48223/pf0000375644/PDF/375644eng.pdf.multi
https://knowledgehub.transparency.org/product/sri-lanka-progress-towards-sustainable-development-goal-16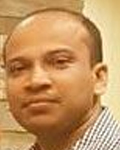 Eng. Saja A.A. Majeed

BscEng, MScEng, PhD
Lecturer
Faculty of Engineering
South Eastern University of Sri Lanka